Boosting Upward Mobility
In 2020, Summit County was one of eight counties selected through a competitive process to join the Urban Institute's Upward Mobility Cohort. As a cohort participant, Summit County developed a plan to reduce racial and ethnic inequities, and support upward mobility from poverty. The other participating counties were Alameda, Calif., Boone, Mo., Philadelphia, Pa., Ramsey, Minn., Riverside, Calif., St. Lucie, Fla. and Washington, D.C.
Summit County Upward Mobility
Summit County, like communities across the country, continues to grapple with historic inequities in society. These inequities prevent residents, notably poorer residents and racial and ethnic minorities, from improving their socioeconomic status. Recognizing a unique opportunity to confront these inequities with the assistance of data experts, County Executive Ilene Shapiro applied to participate in the Urban Institute's Upward Mobility project.
Prior to joining the project, Summit County and its community partners had taken steps to collect data on indicators related to poverty, health, housing, education, criminal justice, addiction, mental health, transportation, internet access and more. While the County was utilizing this data in decision making, there was no formal integration of this data into the County's operations and no strategy for using data to advance social and economic justice. The Upward Mobility framework and metrics provided by the Urban Institute illustrate how these data can be leveraged to form a roadmap for improving the lives of residents. Rather than placing these data in silos, Summit County examined these data as interconnected indicators that were used to organize a plan for upward mobility.
Summit County received a $125,000 grant and 18 months of technical assistance from Urban. The assistance included data analysis, stakeholder engagement, and policy and programmatic advising. Additionally, Summit County benefited from peer-learning opportunities where county leaders attended convenings, workshops, and trainings to share knowledge about strategies to promote upward mobility and help develop best practices.
County Executive Shapiro convened a core group of internal staff to broadly oversee the project and communicate with the community. These staff members were responsible for the day-to-day execution of the project.
To support the more technical aspects of the project like data collection and community engagement, the County contracted with Synergy, a local marketing, strategy, and research firm with significant experience in the project topic areas and The Center for Marketing & Opinion Research (CMOR), a local public opinion research firm known for its expertise in community data collection.
With its partners and coaltion, Summit County selected two priorities areas, mental health and juvenile justice.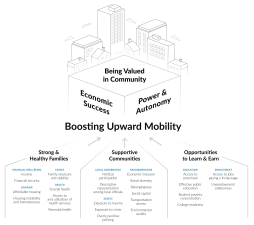 Partnerships
Community engagement was a core component of the County's Upward Mobility work and will continue to be prioritized as the County and its partners implement the Mobility Action Plan.
Upon acceptance into the project, Summit County mobilized the many community partners it already engaged with to begin discussing the strengths and challenges currently present in the community. These macro-level discussions led Summit County to create a smaller working group that focused on potential priority areas. Following conversations guided by the Mobility Metrics and local data, and several focus groups with relevant stakeholders, the County's staff identified mental health and juvenile justice as its priority areas.
With priority areas identified, Summit County recruited members to serve on the Upward Mobility. The County sought to balance professionals working in each priority area with residents who have lived experience related to each priority area. The following organizations were represented on the Mobility Coalition:
Open M
100 Black Men
South Street Ministries
Warriors Journey Home
Akron Youth Alliance
Love Akron
Greater Akron Chamber (GAC)
Akron Public Schools (APS)
Akron Police Department (APD)
Summit County National Alliance on Mental Illness (NAMI)
Summit County Community Partnership
Summit County Executive's Office
Summit County Alcohol, Drug, and Mental Health (ADM) Board
Summit County Juvenile Court
The Urban Minority Alcoholism Drug Abuse Outreach Program
Summit County hosted five monthly meetings with the coalition members. The meetings were used to set goals, create shared definitions, co-create strategic actions, ensure sustainability, and build a communication plan. In addition to extensive discussions with the coalition members, Summit County collaborated with CMOR to conduct two community surveys. The first focused on mental health, juvenile justice, belongingness, and social capital among residents. The second assessed the community's perceptions towards the proposed strategic actions. Additionally, Synergy facilitated focus groups with youth and families engaged with Juvenile Court to ensure the voices of youth were included in the assessment and development of the Mobility Action Plan.