Summit Ready
Summit Ready is a free, voluntary emergency management certification program for the 31 communities (cities, villages, townships) and all Summit County organizations.
Organizations include all other entities, including businesses, colleges, schools, hospitals, and non-profits operating within Summit County, Ohio. The program aims to help increase readiness and preparedness by implementing specific organizational, operational, training, and planning actions.
Certification will provide objective validation of a community or organization's ongoing commitment to effective emergency management and the guiding principles of the Summit Ready program. Those principles are:
Preparedness begins at the local level; and
Preparedness requires the involvement and support of the whole community, including government, business, community organizations, and citizens; and
Preparedness requires a comprehensive approach that includes risk assessment, planning, resourcing, education, training, and public outreach.
A community or organization is certified by meeting the Summit County Emergency Management Agency (SCEMA) requirements. Ten categories address vital emergency management functions, including organization, planning, training, and public outreach.
Many communities and organizations are already in compliance with some of the standards. The applicant's primary task would be gathering, organizing, and submitting the requested documentation. In some cases, applicants will already perform the required tasks but may not have formal documentation of the process. To become certified, those applicants will need to develop the necessary documentation.
The required standards are identified as "core standards" and represent the emergency management baseline that all communities and organizations must achieve. In addition to the core standards, there are optional supplementary standards. These standards represent activities that can increase a community or organization's preparedness beyond the baseline established by the core standards
All certification standards encourage best practices and increase the awareness, understanding, and appreciation of cooperation and interoperability within Summit County. Applicants will enter the program by applying for certification to SCEMA.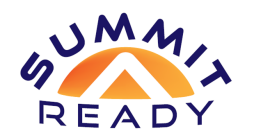 The Certification Process
The certification process has eight steps:
Confirm eligibility

When your application is received, SCEMA will contact your designated representative to answer any questions and arrange for you to receive your Application Package.

Submit the application

Applicants wanting to participate in the program should apply to the SCEMA by completing the single-page application and emailing it to: emaplans@summitoh.net.

Receive certification materials

The Application Package includes the Applicant's Guide, program templates, and a certification checklist.

Complete the certification checklist

The checklist is built into the ten standards and will guide applicants through the process. It includes each standard, instructions for completing the standard, recommended documentation, and a signature or initial line to indicate compliance with the standard.

Prepare required documentation

Please prepare a professional package or binder containing the required documentation when completing your checklist.

Submit the certification package

When your checklist is complete and the required documentation has been compiled, you may submit the completed checklist and supporting documentation to SCEMA.
Supporting documentation should include your completed Emergency Operations Plan (EOP) and other supporting documents, including policies, procedures, directives, memos, or additional guidance.
Return your complete package via email to: emaplans@summitoh.net

SCEMA reviews the package

SCEMA will review your application for completeness and accuracy. Sometimes, we may request additional documentation, clarification of information submitted, or schedule a virtual meeting.

SCEMA certifies the applicant

Once we have determined that your certification package meets all requirements for certification, we will notify you and arrange a time and location for a suitable presentation.
Certification will be effective for five years from the date of the certificate. Each applicant must recertify every five years.
Community and Organization Standards
Summit Ready is designed around emergency management standards that constitute a practical and comprehensive program.
The core standards represent procedures or capabilities that every organization's emergency management program should perform. They represent adequate planning, organizing, training, and equipping for emergency management operations.
Organizations can take different steps to protect themselves against multiple emergency hazards. Some of these steps include designing, preparing, and implementing a plan that provides for all the procedures, strategies, organizational structures, potential risks, personal protection equipment, and all the actions that can be completed in an emergency.
All applicants must complete the required standards to achieve certification. The optional standards represent additional emergency management capabilities. The requirements are the same for all applicants regardless of the size of the jurisdiction or organization.
The community requirements are listed first, followed by the organization requirements. You only need to comply with the requirements as a community or an organization. The standards are organized into ten categories:
Emergency Management
Hazard Identification
Hazard Mitigation
Planning
Resource Management
Communications and Warning
Operations
Facilities
Training and Exercise
Public Education and Warning
Please contact SCEMA with any questions at 330‐643‐2558 or by email at emaplans@summitoh.net.