Nonpartisan Independent Council Fair Districting Commission
Statement from the Summit County Nonpartisan Fair Districting Commission on passing new County Council district boundaries
"The commission believes the new Summit County Council district boundaries are fair, adhere with the principles of the county charter, and abide by state and federal laws. With that in mind, we set out to keep communities together as much as possible as well as increase opportunities to elect diverse candidates from under-represented and minority communities. We believe the new County Council district map accomplishes these goals, and the commission is proud to submit the new district lines to the Summit County Board of Elections."
The county charter outlines the following principles for creating Council districts:
All districts shall be of substantially equal population, compact and composed of contiguous territory and formed by combining existing areas of governmental units, giving preference, in the order named, to townships, municipalities and city wards and precincts.
All portions of a district must be contiguous. When a political subdivision has a noncontiguous portion, it shall be considered contiguous to the remainder of the political subdivision for the purposes of redistricting.
Precincts shall not be divided for the purpose of creating Council districts; however, political subdivisions may be divided between more than one Council district with no limitation upon the division of a political subdivision among districts.
To the degree allowable by federal and state law, consideration will be given to district boundaries that broaden the opportunities for historically under-represented and minority communities to elect representatives to the Council.
The map adopted by the Commission is viewable here.
###
In 2015, Summit County voters overwhelmingly supported establishing a five-member Summit County Nonpartisan Independent Council Fair Districting Commission, appointed by County Council, to draw and approve new district boundaries based on new census numbers.
Appointed by County Council on August 30, the five-member commission includes Francis Buchholzer, Michael Callahan, Tracy Carter, Cazzell Smith, and Irv Sugerman.
If you would like to submit public comment via email, please send it to feedback@summitoh.net
Meeting Recordings: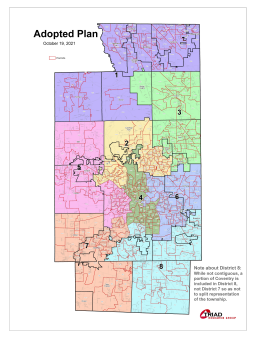 About the Commission:
On Monday, August 30, Summit County Council appointed five County electors to the Nonpartisan Independent Council Fair Districting Commission. Like federal and state legislative districts, County Council districts are redrawn every ten years following the completion of the U.S. Census.
The charter requires that no more than three members of the commission belong to the same political party, and it bars members from holding public office or being an officer of a political party.
The commission has 120 days to prepare and certify to the county Board of Elections a detailed apportionment of the eight County Council districts in accordance with requirements outlined in the county charter. Most notably, the charter indicates districts should be compact, contiguous, of substantially equal population and be split as best as possible along political subdivision boundaries.
Once the commission completes its work and the apportionment is certified, the new districts will take effect for the 2022 election cycle.
The Charter of Summit County is available at https://co.summitoh.net/files-generic/13031/file/summitcountycharter.pdf
Commission Members
Michael Callahan is an Akron based attorney with more than 30 years of practice. Mr. Callahan previously served in elected office as Summit County Prosecutor, Summit County Council Member and as a Summit County Common Pleas Court General Division Judge.
Tracy Carter currently serves as the System Director for Government Affairs and Health Policy at Summa Health Systems. Ms. Carter has served on several local community boards including the Summit County Children's Services, The Akron Community Foundation and the Women's Endowment Fund, of which she chaired.
Frances Buchholzer is the former director of the Ohio Department of Natural Resources and has held positions in government relations for B.F. Goodrich and well as the Ohio Petroleum Council. Ms. Buchholzer has also served as a member of the University of Akron Foundation, and as the Chair of the Board of Park Commissioners for Summit Metro Parks.
Cazzell Smith previously served as assistant director of administrative services under former County Executive Russell Pry. Mr. Smith also served as a longtime Summit County Council Member, representing West Akron, Fairlawn, and Copley.
Irving Sugerman is a partner in Brouse McDowell's Real Estate and Litigation Groups. Mr. Sugerman has served as the law director or special counsel to many political subdivisions within Summit County and is a frequent lecturer for the University of Akron and local Bar Associations.