Summit Connects
In 2022, Summit County Executive Ilene Shapiro outlined plans to build and operate Summit Connects, a high-speed and secure broadband public safety network.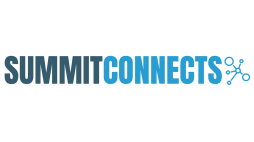 Summit Conects will initially consist of a 125-mile fiber optic cable ring connecting Summit County and all its 31 city, village and township governments to gigabit speed internet service, and a data center. Summit County and the City of Fairlawn entered into a cooperative agreement to formalize the partnership and entity that will eventually own and operate the data center and fiber ring. The development of Summit Connects is largely funded through the County's allocation of federal American Rescue Plan Act monies.
The preliminary intent of the network is to provide a high-speed, secure and affordable broadband platform to host each community's public safety operations. The network will be serviced by FairlawnGig, one of the nation's most successful municipal broadband utilities, owned and operated by the City of Fairlawn. Once construction begins, the County expects the fiber ring and data center to be operational by 2025. In the second phase of the project, the County will work with local communities to explore the feasibility of expanding Summit Connects through internet service providers to residents, businesses, schools and other interested entities.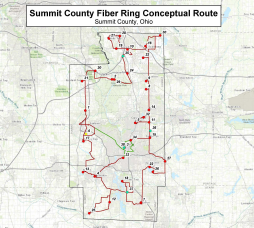 Tallmadge Fiber Run
Work will begin on July 1 to link the new Summit Emergency Communications Center in Tallmadge to the Summit Connects network. This will connect the dispatch center to high speed and secure fiber internet service, improving public safety by ensuring 9-1-1 operations are running on a fast, reliable network. This work is expected to be completed by August 30.
Below are the roads in Tallmadge that will experience minor construction. Residents and business owners can call 234-525-9901 with any questions and concerns.
E Howe Rd
Alandale Dr
Kent Dr
Overdale Dr
Nottingham St
West Ave
Industry Rd
Commerce St
N Thomas Rd
Fiber Route Survey Updates
In January 2023, Summit County began surveying the fiber ring route. Crews from Thrasher, DLZ and EnviroScience will be working their way through the County over the next several weeks. Below is an interactive map of the routing study. We will also provides regular updates of their progress.
Fiber Routing Map: https://thrasher.maps.arcgis.com/apps/webappviewer/index.html?id=57954ad4253f4d6d98efff0c837b4bae&extent=-9123766.8991%2C4997756.4285%2C-9007582.6161%2C5064715.2653%2C102100
May 8 Update:
Thrasher:
Thrasher is finishing Springfield Township with surveys in Mogadore and Akron.
April 24 Update:
Thrasher:
Thrasher completed field work and mapping in Green. Work in Springfield is still in progress.
April 17 Update:
Thrasher:
Thrasher will finish New Franklin and continue work in Springfield Township this week.
DLZ:
DLZ's field crew is currently on Cuyahoga Falls RR 25 and Cuyahoga Falls RC26 / Stream 8.
April 7 Update:
Thrasher:
Thrasher will be in Springfield Township this week.
DLZ:
DLZ will be working in Twinsburg on crossings RC 17, 18, 25, and 26 this week finishing up field work.
March 31 Update:
Thrasher:
Thrasher will be in Coventry Township and Springfield Township this week.
March 24 Update:
Thrasher:
Thrasher will be surveying near the I-77/SR 241 interchange in Green this week.They will move back and survey 3 locations in the City of New Franklin.
DLZ:
DLZ will not be in the field surveying this week.
February 31 Update:
Thrasher:
Thrasher has completed Norton and has moved into Barberton.
DLZ:
DLZ will be in Twinsburg this week.
February 24 Update:
Thrasher:
Thrasher will continue work in Norton this week.
DLZ:
DLZ is moving into Twinsburg this week.
February 17 Update:
Thrasher:
Thrasher will continue work in Norton this week.
DLZ:
DLZ will complete all remaining field checks and basemaps in Richfield and also continue with field survey in Boston Twp. area.
February 10 Update:
Thrasher:
Survey is finished in Copley Township with the exception of one crossing due to a gas line installation. Thrasher will now move into Norton.
DLZ:
Survey will continue in Boston Township.
February 3 Update:
Thrasher:
Finishing Copley Township next week and moving into Norton.
DLZ:
DLZ crews will be working in Boston Twp. all of next week.
January 27 Update:
Thrasher:
Finished Bath Township this week. All field work and basemapping is done in Bath Township. Next week we plan to move into Copley Township.
DLZ:
DLZ finished up Richfield Township and will be surveying one crossing location in Twinsburg, Hudson, Macedonia, and Northfield this week.
Digital Inclusion
Summit County is taking a major step toward digital equity and inclusion with the creation of a Summit County Digital Equity Framework. We have partnered with the National Digital Inclusion Alliance (NDIA) to create an Equity Strategy. This work will be led by Steering Committee made up of community members and stakeholders. We held
To launch this work, we held a webinar to introduce the tenets of digital inclusion and equity, and to discuss how we can effectively close the digital divide in our community. As we make a landmark investment in Summit Connects, we want engagement from all 31 communities to ensure that our residents, especially disadvantaged residents, are included in an increasingly digital world.
To learn more about NDIA, visit https://www.digitalinclusion.org/.