Major Maintenance Programs
Routine Inspection, Assessment and Fleet Maintenance
Cleaning of sewer lines
Conditional Assessment of sewer lines.
Video inspection of sewer lines.
DSSS maintains approxiamtely 120 cars, trucks, trailers and heavy equipment. DSSS completes maintenance on all its equipment as well as for other county departments.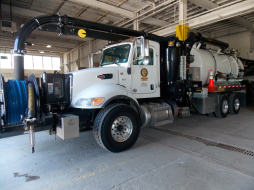 Operation and Maintenance of Pump Stations and Waster Water Treatment Plants
DSSS maintains 114 pump stations and 102 grinder pump stations throughout Summit County. The pump stations lift sewage from lower elevations in communities to one of our treatment plants. Each station is servied continually.
DSSS also operates and maintains 6 wastewater treatment plants. These facilities treat a combined average of 7.1 million gallons of waste water per day. One of the two regional plants, Fishcreek is staffed 24 hours per day, 365 days per year.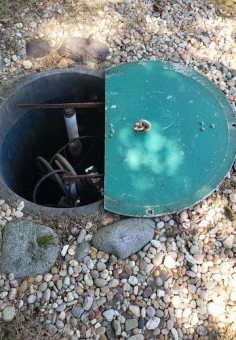 Project Q-614: Operations Fleet Maintenance Facility
DSSS is currently implementing plans for the construction of a new Operations Fleet Maintenance Facility. The new 60,000 sq. ft structure will be located on the Cole Avenue Extension in Akron (33 Cole Avenue), adjacent to the main office of the Department of Sanitary Sewer Services. The single-story prefabricated metal building will bring together the Department's fleet maintenance, sewer maintenance and pump station groups into a single modern facility. These three DSSS divisions currently operate out of separate facilities at various locations scattered across the County.
Summit County has requested approximately $12,807,489.49 from the Ohio Water Pollution Control Loan Fund (WPCLF) for this project. The Ohio EPA administers loan preparation for this program based on state standards and Ohio EPA procedures. The selection of the contractor for the construction of the work was made through the County's competitive bidding process. The Summit County Council has approved award of the contract to the Knoch Corporation. Construction is anticipated to begin shortly and be completed by early 2021.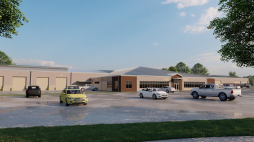 Upper Tuscarawas Water Reclamation Facility
Summit County's Upper Tuscarawas Water Reclamation Facility is currently undergoing an upgrade that will allow it to generate cleaner water and meet future water quality standards on the Tuscarawas River.
Water that is flushed or sent down the drain into the sewer system cannot be released directly into rivers and lakes. That's why the Upper Tuscarawas plant was built in the 1970s to remove pollutants from the water and release it safely into the Tuscarawas River. Summit County owns and operates 6 of these Water Reclamation Facilities, with Upper Tuscarawas being the second largest. The facility receives and cleans 4 million gallons of wastewater a day. The new technologies being installed include automated instrumentation, along with energy-efficient mixing systems and pumps. This will allow the system to meet much more stringent standards than the equipment currently operating, much of which is from the original installation in the 1970s.
The new system, called Biological Nutrient Removal (or BNR), uses air, bacteria, and gravity to remove hard-to-target wastes like ammonia, nitrates, and phosphorus. A high level of these types of nutrients can cause harmful algae blooms in the lakes and rivers downstream. The BNR plant will be capable of removing even more of these nutrients before they have a chance to enter the river. Our team will be working through this construction program to ensure cleaner, safer, river water for our community.