Age-Friendly Summit County
Want to learn more about Age-Friendly and how you can become involved? Complete this survey and we will contact you with more information.
Age-Friendly Summit County recently teamed up with Age-Friendly Akron to coordinate and streamline each initiative's efforts. To learn more about Age-Friendly Akron visit https://akronagefriendly.com/ and stay tuned for updates about this ongoing partnership.
About Age-Friendly
In 2019, Executive Shapiro announced Summit County would join communities across the nation in becoming an AARP Age-Friendly Community. We officially applied and were accepted into the Age-Friendly Network in January 2020.
By 2030, we expect seniors will account for more than 30% of Summit County's total population. While Summit County currently maintains a strong social service system, more can be done to strengthen this system to ensure it can handle increased utilization.
We aim to achieve our goal of making Summit County livable for all people, and in doing so, earn the Age-Friendly designation from AARP. To do this, we must demonstrate steps taken to become a place where people of all ages, income levels and abilities can thrive. We will engage in the Age-Friendly Process and Program Cycle, a five-year process that requires completing a county-wide survey and listening sessions, developing an action and evaluation plan, implementing the action plan, and finally, evaluating and setting new goals. We will focus on AARP's 8 Domains of Livability: Outdoor and Public Spaces, Transportation, Housing, Social Participation, Respect and Social Inclusion, Work and Civic Engagement, Communications and Information and Community and Health Services.
Strategic Plan
In early 2022, Age-Friendly Summit County finalized its strategic plan. This document, developled collaboratively with residents, professionals and the Advisory Council, will guide the next three years of the five year Age-Friendly process. If you believe every person in Summit County should be able to age as they wish, in the place of their choosing, and with ample avenues to remain engaged in their community, County Executive invites you to join us as we make this vision a reality.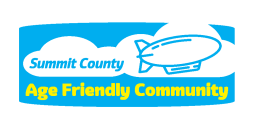 Age-Friendly Advisory Council
To help complete the Age-Friendly process, Executive Shapiro convened the Summit County Age-Friendly Advisory Council. Below are the members of the council.
Chair: Sue Sigmon, Direction Home Akron Canton
Outdoor Spaces and Public Places: Lisa King, Summit Metro Parks
Transportation: Dawn Distler, Metro RTA
Housing: Jamie McMillen, Akron Cleveland Association of Realtors
Social Participation: Carrie Snyder, City of Cuyahoga Falls
Respect and Social Inclusion: Shorter Griffin, Barberton City Council/Kiwanis
Work and Civic Engagement: Ted Watko, VANTAGE Aging
Communications and Information: Tanya Kahl, United Way 211
Community and Health Services: Donna Barrett, Summit County Public Health
Advisor: John Garofalo, Akron Community Foundation
Advisor: Harvey Sterns, University of Akron