Experience the Celestial Marvel: Total Solar Eclipse on April 8, 2024 in Summit County!
A solar eclipse, a rare cosmic event where the Moon passes between the Sun and Earth, casting a shadow on our planet, is a breathtaking natural spectacle. On April 8, 2024, this phenomenon will grace Ohio, with Summit County falling in its path of totality.
Why This Eclipse Is Exceptional
Such opportunities are infrequent; in the United States, only 15 solar eclipses have been visible since 1867. The last occurred in 2017; the next visible from North America won't happen until 2044. Eclipse enthusiasts are gearing up for this event, especially since Summit County is one of the prime locations globally to witness it.
What You Need to Know
The eclipse will enter Ohio at around 3:00 p.m., captivating spectators for 2-4 minutes, leaving around 3:10 p.m. Due to Summit County's strategic location, our region expects a visitor surge. Historically, eclipse events have led to significant population increases, doubling or even tripling communities. Ohio's accessibility - within a day's drive for 70% of the nation's population - makes it a hotspot for eclipse chasers.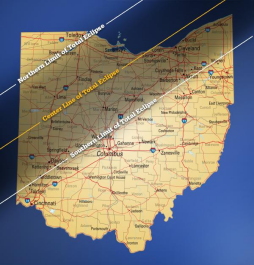 Why Preparation Is Vital
On the eclipse day, Summit County anticipates a significant increase in traffic volume. To minimize congestion and ensure a seamless experience, we strongly recommend viewing the eclipse from the comfort of your home or nearby open spaces whenever possible. However, careful planning is essential if you decide to venture to an alternate location. Here are some vital recommendations to consider:
Expect Traffic Challenges: We anticipate heavy traffic and extended waiting times on local roads. Your patience and courtesy on the streets are invaluable. Be considerate and understanding of fellow drivers.

Explore Carpooling Options: Carpooling can significantly reduce the number of vehicles on the road. Coordinate with friends, neighbors, or fellow eclipse enthusiasts to share rides. This not only eases traffic but also promotes a sense of community.

Fuel Up in Advance: Ensure your vehicle has a full tank of gas or is fully charged if you plan to drive. There may be long waits at gas stations, so having sufficient fuel beforehand will save you time and frustration.

Pack Essentials: Bring an ample supply of food and water with you. Having refreshments readily available ensures you can stay nourished and hydrated, especially if you find yourself in a location with limited amenities.
Adhering to these recommendations and planning ahead can contribute to a smoother traffic flow and a more enjoyable experience for everyone on the eclipse day. Let's work together to make this celestial event memorable for all in Summit County!
How Can You Prepare?
Check Out Events: The State of Ohio has created an interactive map displaying eclipse-related events. Plan your experience and explore various activities using this resource: Ohio Total Solar Eclipse Events.
Summit County Public Health has compiled essential information for food vendors, campgrounds, septic system/well water/cistern protection and more at https://www.scph.org/eclipse-2024.
Let's make the April 8, 2024, solar eclipse an unforgettable experience for Summit County and all its visitors. Prepare, participate, and be part of this celestial wonder!